Mounting Evidence COVID-19 Infection Isn't Common in Pets
Antech Diagnostics announces in the press release (below) that in their surveillance of cat and dog samples, they could not find a single positive pet for SARS-CoV-2, which causes COVID-19. The release doesn't say, but I know they tested nearly 1,000 animals. This follows similar testing by IDEXX, another diagnostic lab, of well over that number of dogs and cats with the identical results. It's unknown how many of these homes – if any – had COVID19 positive humans residing (but I would think that with all these animals there was likely exposure among some of them to COVID-19 positive humans).
In another bit of news, French veterinary students investigated the presence of SARS-CoV-2 infection of nine domestic cats  and 12 dogs living in close contact with their owners which 11 of those owners (11/18; 61%) developed symptoms compatible with COVID-19 between February 25th and March 18th. Only two of the students were tested, and they did test positive (When there are a cluster of sick people, according to French regulation, all don't require testing). The pets continued to have close contact with the students, including sharing the same bed in many case. And not a single pet tested positive.
The paper's authors conclude that the rate of SARS-CoV-2 transmission between humans and pets in natural conditions is probably extremely low, below a reproduction number of one.
Antech press release:
Antech Diagnostics, part of Mars Veterinary Health, reported today that it has found no evidence of the virus that causes COVID-19 in people (SARS-CoV-2) in its ongoing surveillance of cat and dog samples submitted for polymerase chain reaction (PCR) analysis. Leading human and animal health organizations agree that there is currently no evidence that dogs or cats in a home environment can be a source of COVID-19 infection to other animals or to humans. Antech's data align with their conclusions.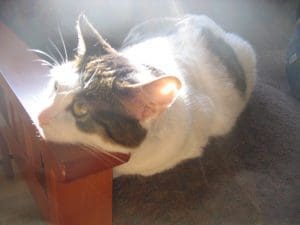 In its surveillance program, Antech is testing cat and dog samples that veterinarians submit for PCR analysis, a routine practice when an animal presents with symptoms that suggest a common infection or illness. The PCR analysis Antech performs as part of its surveillance program is specifically for veterinary use; it does not consume resources for human COVID-19 testing. Antech will continue to monitor samples and report any discovery of positive cases to local, federal and veterinary authorities. Out of an abundance of caution, the Centers for Disease Control and Prevention and U.S. Department of Agriculture recommend that people diagnosed with COVID-19 limit contact with animals until more information is known.
"As understanding about this new coronavirus deepens, our professional community and pet owners are fortunate to be guided by several highly respected human and animal health organizations," said Jennifer Ogeer, BSc., DVM, MSc., MBA, MA, VP Medical Affairs & Commercial Marketing at Antech. "These organizations are continually analyzing, validating and interpreting emerging data to inform and update their recommendations, which should guide our actions and increase pet owner confidence. Their diligence allows us to seek continued solace in the joyful distraction and comfort our pets can give us during this time."